Manglore communal violence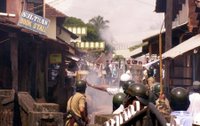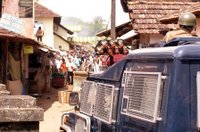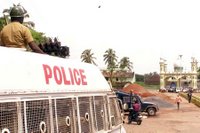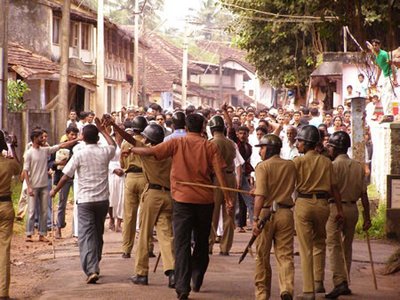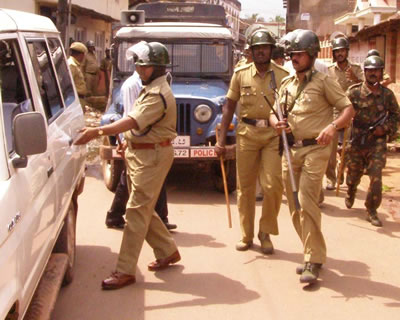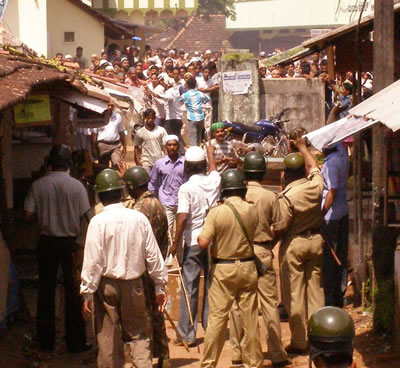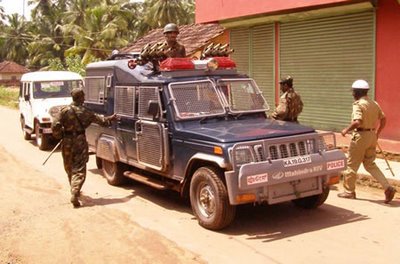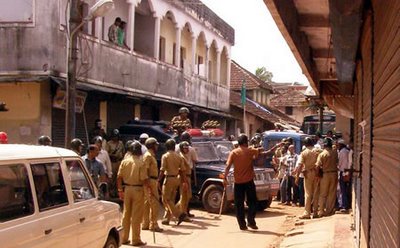 Mangalore Oct 7: Although Mangalore showed signs of normalcy late on Friday night after the curfew was imposed in certain parts of the districts including Mangalore rural police limits, Konaje and Ullal, the violence took an ugly turn early morning today. A certain person called Gaffoor was stabbed to death near Ane Gundi in Bejai following which curfew is declared in Mangalore city for the first time today after violence broke out 3 days ago. Gaffoor was stabbed on Friday night and succumbed to injuries today morning at A.J. Hospital.
Police vans are driving around the city of Mangalore announcing the imposing of curfew. It is also learnt that Karnataka Director General of Police BS Sial is visiting Mangalore shortly.
People are requested to remain indoors and cooperate with the district administration in maintaining peace and order in the district. Massive deployment of Patrol Officers and Striking forces has been made in all strategic places and strict vigil is kept.For the people of Mangalore it is unusual and alarming to hear the sound of sirens echoeing in the city. The police are having their hands full trying to restore a semblance of normalcy, first in the outskirts of the city and now within the city limits.
Earlier late on friday night Home minister M. P. Prakash had declared shoot at sight orders to control the situation.
Home minister issues shoot-at-sight order
Home minister M P Prakash, late on Friday night issued shootat-sight orders in the communal trouble-hit areas of Dakshina Kannada district, including Mangalore urban and rural police limits, Konaje and Ullal.
Disclosing this at a late night press conference in Bangalore after reviewing the situation with DG & IGP B S Sial, Home Minister M P Prakash said the district administration had been told to crack down on anti-social elements provoking communal violence, looting and arson. With several police battalions from Dakshina Kannada now deployed in Chikmagalur in the wake of Datta Mala abhiyan, anti-social elements and "outside forces" are trying to take advantage of the situation by spreading communal violence, he stated.
A son of a prominent politician in Ullal was behind the communal trouble in that area, Mr Prakash alleged, but desisted from naming the politician.
He lashed out at the Opposition parties which are trying to link the Datta Jayanthi row with communal violence.
Instead, the Opposition should play a constructive role by giving a call to people to maintain communal harmony, Mr Prakash suggested.
Minister blames vested interests
District in-charge minister B Nagaraj Shetty on Friday alleged that groups with vested interest were behind the violence which has erupted in the district. He said such disturbances would only hinder the progress of the district which is poised for exponential growth in all spheres.
Shetty said that bandhs would not provide solution to any problem but only allow miscreants and anti-social elements to take advantage of the situation. Speaking to reporters after assessing the overall situation in the district, he said except Ullal and adjoining areas, the situation in the rest of the city and the district as a whole was under control.
A group of rioters went on rampage at 3.15pm in Veeranagar (Kannur ward) and Faisal Nagar (Bajal ward). One Bakery in Veeranagar was totally destroyed and all the items were thrown on the road.
Three person who were grievously injured at Faisal Nagar have been admitted to Wenlock hospital. Out of the three injured, one person is said to be in very critical condition.
At Ullal and Kuttar, Surathkal tension was at an all time high. Within the city limits of Ullal and Konaje the situation reached a crisis point today and IGP Sathyanarayana Rao visited the spot and declared a curfew and a shoot at sight order. More than 10 members were injured in today's incidents of stone pelting. An Auto and 2 two wheelers were set on fire. Later reports came in that shops were also set on fire by angry mobs.
In the Deralakatte area, several shops were set on fire and many more injured in group clashes near Ullal.
The schools will remain closed until October 11.